Skills to Learn for Business: Our Clarity Course
The Clarity Course is made for the female entrepreneur who wants to have a thriving business while avoiding overwhelm.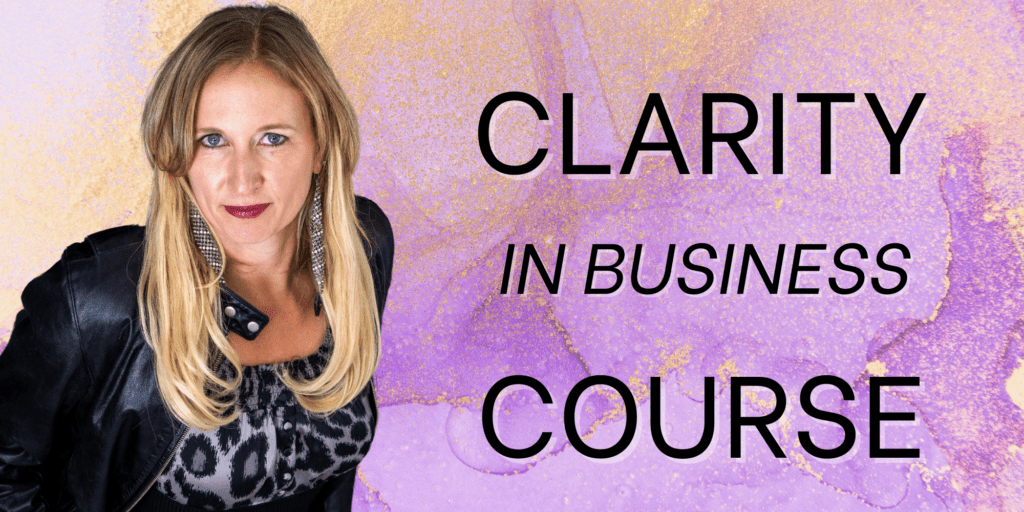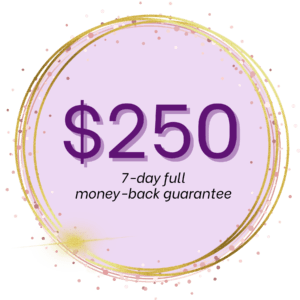 The clarity course is specifically designed for the female entrepreneur who wants…
To conquer the fear of failure and possess the bravery to reach new heights in her business.
To attain a life overflowing with prosperity, both in her personal and professional life.
To cultivate toughness in the face of difficulties, obstacles, and setbacks, and persistently strive towards success in her business.
To foster a positive and uplifting network of connections, both in her personal and professional life, to aid in her growth.
To triumph over feelings of being overwhelmed, dissatisfaction, and exhaustion, and preserve her mental and emotional well-being.
To make decisions with assurance, focus, and determination, breaking free from self-doubt and indecision.
To unleash her full potential and accomplish your business goals, without compromising her happiness and well-being.
To live with zest, purpose, and contentment, knowing that you have made a lasting impact and left a legacy for future generations.
The Clarity Course Content
The skills to learn for business that you will be receiving include:
Module 1 - Your Dopamine Button: The Plan to Reach Dreams
Three Years to Boss: Your 3 Year Dreams and Creating Specific Measurable Steps to Get There
Define 1, 2, 3 year vision and goals​
Learn systems to evaluate your goals to see if you are on track and how to make adjustments if you are not
Create actionable steps to meet your goals
Take a moment to think about how many hats you wear. How many things do you have to do in your business every day, every week, and each month? Do you feel overwhelmed? Which of these things are totally necessary? Do they all feel necessary and urgent?  In this module, you will learn how to build a plan so you can.
BREAK UP WITH OVERWHELM.
In this module, you will learn how to break down your business so you can understand if it is even possible to meet your goals with what you are doing. You will set up your strategic plan in real time so you know exactly WHAT to do and WHEN to do it so you can stop spinning your wheels on the tyranny of the urgent tasks that are likely drowning your growth.

Module 2 - Penetrate the Mind of Your Customer: Your Clients
Your Customer Niche: Know Your Customer and Why They Buy
Deeply Understanding Your Niche's Motivation to Purchase
Making Your Offer Irresistible
Stories that Connect to Customers
Are you making the most out of your life? Is your product/service deeply improving the lives of others?  Life is too short to not be living our full purpose. You have gifts and I know you want to share them, or you would not be in business. So why are people not buying more?

Is your product attracting those you want to work with? Is it attracting enough people? In this module we will evaluate your product/service and your marketing to make sure that it is attracting the type of person you want to work with . We will then evaluate your marketing copy to learn how you can speak to your ideal audience to show how you will improve their lives.

Module 3 - The Boss Lifestyle: Scaling to Success
Scalability: Analyzing Your Product/Service for Profit Potential
How to analyze your offering for its ability to be scaled
Creating Value Stacks (upsells and downsells) to improve profit margins
Types of Offerings: Do it yourself, Do it with me, Do it for me
Do you believe that you actually have control over your destiny? Sure there are things that we cannot predict. But, there are ways we can respond to life and prepare.

So many women have great products/services but package them in a way where they are never going to get out of the time for money hamster wheel. Here we teach you specific metrics to analyze your product/service to make sure that it is SCALABLE And if it is not, we teach you how to change it to make it so!

Module 4 - Pathway to Pleasure: Maximizing Your Time
Productivity and Efficiency: Making the Best Out of Your Time
Principles of productivity: getting the most out of your time
Boundaries and routines that work
How do you show up to work (and life) on really hard dark days? Do you crawl under covers and cancel your day? Do you move through your day with distraction?
How do you show up to work on easy days? Do you find yourself still bouncing from tasks to tasks answering texts, emails and phone calls?
Many people talk about "morning routines" in business. We often hear routine this and routine that. And sure there can be value in routines. But often time the people that make the most money are the people that are less focused on ROUTINES and more focused on PRODUCTIVITY.  Learn in this module how to set up your life for productivity success even on the hardest of days.

Module 5 - Your Personal Prism: Getting People to BUY
The Customer Journey: From When They Hear About You to When They Buy
What is a funnel and why is it ESSENTIAL to your business?
Building a list and making better use of it
Software options that support your goals and save you time
Do you have faith in your ability to figure it out?  If the answer is yes, you are off to a GREAT start. Believing in yourself is huge. 
However, can you imagine going to a doctor because of a symptom and just having the doctor do nothing other than say, have faith, it will be fine?
Of course this is not a good idea. In health, finding the root cause of symptoms allows doctors to tailor treatment towards your needs. The same applies in business. In this module, you will learn how to diagnose the root causes as to why your business is not scaling. This is where we really start kicking OVERWHELM to the CURB.

Module 6 - Omniscient Goddess: Why You Are Not Growing
Analytics: Understanding Your Numbers and Using Them to Inform Your Decisions
Why are numbers essential to your business plan?
What numbers are important to track and how to track them?
Determining your profit margin and using it to plan your marketing
When we know how to use the more masculine side of ourselves it opens up the freedom and the pathway to PLEASURE that exists in our truest feminine nature. Why is that? Some energetic qualities that are more masculine in nature include analytics and numbers.

When you embrace these qualities and understand the numbers of your business, you easily illuminate the boulders that are in the path, blocking your success and know EXACTLY what to do to remove them.

Basically, numbers are your superpower that allows you to focus exactly on what you need so you can stop wearing so many hats. When we learn how to use the masculine part of ourselves like this, IT FREES UP TIME AND ENERGY for us to have magnified success, so that we can focus on the feminine yumminess in business: creating and pleasure. How do you know all this? We will teach you how to set up systems to gather data to make informed, time-liberating decisions

Module 7- Doppleganger Effect: Reduce Overwhelm w Systems
Scripts and Systems: Repeatable Procedures That Are Easily Replicable
How to automate your systems to do less work and get better results
Utility of project management software to keep you and your company on track
Developing repeatable standard operating procedures
Imagine having a secondary you in your company. This second you has a brain like yours. They know how to act like you. They know exactly the steps to take that you would take a in a wide variety of situations. This is what effective systems do for your company.
When you have systems, you can almost multiply yourself. Create a larger degree of PRESENCE, SCALIBILITY, AND PROFITABILITY by creating the systems that work as your double.
In this module we will look at how to automate things so you can to less as well as how to how to set up the systems in your business that allow you to scale. As you grow and push the boundaries of what you can do in a day, week, month and year, if your systems are not set up well, things fall through the cracks, customer service goes down and you will be spending a lot of time cleaning up fires and preventing your business from breaking down.

Module 8 - Making Time Your Sexiest Possession: Building Your Dream Team
Building Your Dream Team: When to Invest In Help And How to Find the Perfect People
When to hire, who to hire, and when to do it yourself
Creating a Corporate Culture of Loyal Employees
Virtual Assistants: How to find top notch help in unstable market
Now that you know exactly what to do to get to where you are go and you have systems to make yourself reproducible,  how do you prevent all that overwhelm from so many tasks?
As females, one of our superpowers is usually our creative minds. Since most of us have such diffuse awareness, it is easy to get pulled in multiple directions, creating a vicious cycle of multitasking, which exhausts the mind and decapitates the sensual embodied feminine spirit. This decapitation is debilitating for the female entrepreneur because it literally cuts us off from our life source of creative energy.
In this lesson, you will learn how to hire, train and build your ULTIMATE DREAM TEAM, and how to do it without spending a fortune. You will learn how to create a corporate culture that leads to happiness at work and dedicated employees to help you spend your time doing the creative work that you love and that really matters.

Module 9 - The Secret SEO: Building A Better Web Presence
Online Marketing: What Your Website SEO Person is NOT Doing for you
Building and utilizing squeeze pages
How to write content in a way that search engines find your business
Copy writing tools and strategies for success
You probably know what SEO is and may have likely hired someone to do this. The problem is, most people that do SEO do not tell you the specific copy that will allow you customers to find you. For example, if you sell high end makeup and the search term that people will most often use to find you is "high end makeup" and your website does not show up on the first page after the search term is used, people will likely never find you. Your SEO person is most likely not telling you this and most likely not building your web page search terms around things that will help your clients find you.
You are MISSING a LARGE AMOUNT of organic traffic if people cannot find you. Learn how to write copy and blogs that drives more people to your website. 
Want to write copy that sells? Want to feel confident to put your flair and personality into what you write? Want to make writing, hot, sassy, sexy and pure fun? Learn the how to drive people to your website and to purchase your product and do so by living your most authentic expression of yourself.

Module 10 - Creative Genius: Unleasing Social Media Mastery
Free Social Media Techniques: Gaining Customers WITHOUT Paying for Them
Instagram techniques: magnifying your results while minimizing your time
YouTube and Canva
LinkedIn
Feel powerless by ALL of the social media platforms out there? Not sure which ones to do or how to do them? Feel divided in your time and unclear of your strategy?

Learn what platforms to focus on for YOUR SPECIFIC BUSINESS and how to use them to build your business WITHOUT SPENDING A DIME! Pick the social media platforms that matter the most and forget the rest.

Module 11 - Going Supernova: Constructing Ads that Monetize
Paid Social Media Techniques: Using Your Marketing Dollars Wisely
How to turn your competition into your allies
Power Partners
How to turn your competition into your allies
It's time to spend money on ads to grow your business. This can be SCARY IF YOU DO NOT KNOW if the ads are working. Learn the strategy of how to analyze your ads to make sure that whatever money you put into advertising, you get more money out. Scale your business by understanding how to determine what an effective marketing budget is and to ensure that your marketing strategy is producing RESULTS.
Spend money. But spend it wisely so that the more money you spend, the more money you make.

Module 12 - Seduction: Guide to Raving Fans and Testimonials
Testimonials and Reviews:  Making Your Clients Your Raving Fans
Testimonials
Podcasting: Winning appearances and get people to convert 
Online reviews: Tips for maximizing 5 out of 5 stars
The EASIEST way to get new customers, is by your current customers referring you. But how do you motivate your current customers to do so?
Learn how to turn your customers into your most raving fans. Teach your customers HOW to talk about you and motivate them to talk about you and to give you 5-star reviews. 
Program Investment & Guarantee
Join our online program for $250. Let us know within 7 days if you do not like it and we will give you your money back.  If you want to add on group or individualized coaching learn more and apply HERE
Women that are up for the challenge of doing hard things and enjoy the thrill of succes.
Women who are growth and transformation oriented.
Women who want to make a greater impact and are driven by a quest for a freer and fulfilled life.
Women that have a product/service and a business created already.
Women with a victim mentality who are not ready to take extreme ownership over their lives
Women who want to focus on the past instead of solving for the future
Women who do not want to go through a period of pushing to get to somewhere great
Women that do not have an EIN or the basics of business set up including a base level product/service
Frequently Asked Questions
1) Is there a Guarantee? Not everyone is ready to be a BOSS.  Just email us at [email protected] within 7 days of signing up and we will get it cancelled with a full refund for you.
2) What's Next? Simply click on the button below to register and you will be sent log in information to the course material as soon as the trial is launched! Please make sure to check your spam folder!
3) Can I get one on one support? Absolutely!  Group coaching and individualized coaching are available by application only.  Simply apply and sign up for a time to be interviewed to see if it is the right fit. Schedule some time HERE (or email us at [email protected] to schedule a cal
Additional Insight on the Importance of Clarity in Business
The point here is that it is difficult to totally separate clarity of purpose in business from clarity of purpose of life. And this is a great thing! So often, us women entrepreneurs wind up being so much in our masculine analytical self for business. And there is benefit to this that we will explore! However, being too deep into this can cut us off from the creative, more feminine part of ourselves.
Other times, us women entrepreneurs get so lost in the creative feminine side of the business, that we lose the masculine element of ourselves and the value that analytical data can provide our business. Analytical data gives us information that can harness our creativity by making us more focused and less scattered amongst all the tasks.
So when we talk about clarity of purpose in business, it is important to train and cultivate both the analytical side as well as the creative portions of ourselves.
Imagine taking off on a road trip. You know you want to get some place amazing. Perhaps it is the beach, the mountains, or a city you have been dying to check out. But you don't put an address into a maps app or tell whomever is driving where to go. Obviously, you will not get to where you want to go if you do not have clarity on where you are going or some of the steps to take to get there.
There are so many areas to get clear on with business.
When we make decisions and put things into place without having clarity, we can often waste a lot of time and money as we drive in circles and don't get to our most ideal destination.

From the analytical side of things, clarity of purpose in business is about understanding the data of your business so you can easily determine what is the weakest link in your business and hone all your efforts into fixing that above all else. When we can see clearly which one action will support the growth of our business more than anything else, we can put all our efforts on that one element.

This not only maximizes our results but guess what ladies?!?! It settles the mind, so it is less scattered and when we do this, it is easy to drop into that feminine brilliance: of ideas, creativity, and inspiration. To further this, often when we do drop into our creative selves in our non-work life, we carry that energy of the work over to work. Pleasure in life bleeds into pleasure in business. The two cannot be separated. Nor should they be.
When the analytical mind's needs are met, it is easier for the
creative self to come up with amazing solutions that the
rational mind would have missed.

When we can find clarity in both the analytical and the creative mind (in both work and non-work life), that's when we can really begin to scale our business.

It is impossible to know how to get to a place if we do not know where we are going.
If you are like many of the women I coach, having true clarity to the level of we know where we are going and we know the clear best route to get their the most efficiently is challenging.
See how well you can answer the following questions:
1) What is your why? By this I mean, why do you do what you are doing in your business? How well do you know your why? Could you explain it to me in 30 seconds or less? Your why is the reason why you are doing what you are doing. Knowing your why can help you get through tough and challenging days with business. My why for my female entrepreneur coaching business is this: I want all women to be free. This is why I coach female entrepreneurs… to help them have the freedom to design their life how they want it. It is also why a portion of profits from this business goes to charities to help women of abuse and human trafficking. This is why business vision and mission statements are so important.
2) How well do you know where you want to go with your business? Do you want huge growth? Moderate growth? What does this mean to you? What do you want your life to look like in 1 year or 3 years. Do you have a specific plan with actionable steps for how to get there? Do you have a system for analyzing your plan and making necessary adjustments if you are not on track?
3) How much time do you want to put into your business? Do you like working one-on-one with people? Do you like groups? Do you not like working with people at all? Long term are you trying to build a business that you can sell, step out of or continue working on? This is important information as it makes a difference with the direction you go and the steps you take to get there.
4) How clear is your product or service offering? If you met me on an elevator, could you explain what you do in 60 seconds or less so clearly that I understand?
5) If I ask you today what the #1 area in your business is that is stopping you from growing, can you answer from an informed place (meaning, not by guessing, but by showing me data)?
6) How well do you know your customer? Do you know their pain? Do you know their pleasure? What are their fears? What brings them joy?
7) Do you know where you want to be in one year in your business? Do you have a system in place for tracking and analyzing your success on a weekly or monthly basis to make sure you are on track to get there?
8) Do you have a way of analyzing your marketing budget to know how much you can spend on a customer and still make great money? Do you know how to spend your dollars in a way that will give you the best return on investment? Do you know how much you can afford to pay to gain a customer (not by looking at your bank account, but by understanding your margins)?
9) Do you know when it is time to hire help, who to hire, and how to develop standard operating procedures to get them trained? Do you know how to create systems where you can basically REPLICATE yourself? Learn more about the stages of business HERE.
10) Do you know how to write copy in a way that moves people to take action?

Check out Our Main Page to Learn About Who We Work With HERE!
These are some of many questions that really need to be answered to grow and scale a business. And this is just the beginning. Finding your clarity of purpose in business helps you to understand why you are doing what you are doing, where you are going, the exact steps to get there and how to analyze along the way to make sure you are making the right decisions.
Note that many of these questions needed the analytical mind to answer. They may be analytical type of questions, but the creative brain is one part of coming up with the answers.
Clarity of purpose in business helps you to develop a system of analyzing your numbers so you know where to spend money, how much to spend, and how many clients you need to reach the results you want. This frees up time for the creative mind to solve problems and grow your product/service in a more intuitive way. It's quite beautiful actually!