Development of a lean business canvas model is one of many skills that can be useful for the female entrepreneur. For an understanding of more helpful small business skills for entrepreneurs, visit our blog HERE.
The Lean Business Canvas Model was originally developed by Ash Maurya and is now used by businesses all over as a way of getting clearer about your product/service and its potential profitability.
Lean Business Canvas Model
Our work at Femme Meets Fortune involves not only scaling your business as a female entrepreneur but also increasing your pleasure. So as you dive into this material for the lean business canvas model, we invite you to take a moment and see what you could do in this moment to bring your body and mind more pleasure.

Is it a deep breath, a sparkling water, a coffee, a glass of wine, a change of clothes into something more comfortable or something else? When we combine pleasure with business, we are able to grow our business while we more deeply enjoy our life.

The Lean Business Canvas Model can be broken down into nine areas:
Before you do this: take our CLARITY QUIZ to get a sense of how clear you are on all of these areas.
1) The Problems: The top problems that you see for your target market that you are going to try to solve.
2) The Solution: The solutions for the problems.
3) The Unique Value Proposition: What makes your solution different? Make sure you spend time on this one. So many companies fail because they are basically renditions of other people's ideas and are so similar in how they try to solve problems, that their customers cannot decipher what makes them different.
4) The Unfair Advantage: The more difficult your product/service is to replicate by another company, the better of an idea it is.
5) Customer Segments: How well do you know your customers? If you sat down with one of your ideal customers, would you be able to easily name their pain in their business and life? Would you understand their struggles?
6) Key Metrics: Do you know your cost of client acquisition? Do you know how to understand your marketing decisions? Do you know how much you make on average for each customer? These are how we make business decisions. Do you know how to do this?
7) Channels: Do you understand all of the different paths a customer takes to find you as well as to make decisions to buy more and more of what you offer?
8) Cost Structure: Do you know what it cost in overhead for every customer you bring in? Have you analyzed your time to make sure that you can bring in more customers and have the money needed to hire before you run out of time?
9) Revenue Streams: Do you know your margins? Do you track your profit and loss? How much have you analyzed your revenue model to make sure that it is profitable to you but also brings such a high value to your customers so that they feel that they are getting extreme value for what they are putting in?
A Simpler Version of the Lean Business Canvas Model
The Lean Business Canvas Model is a great way of looking at business, but it can be overwhelming and sometimes leave a feeling of where to start. Here is the Femme Meets Fortune Business Model.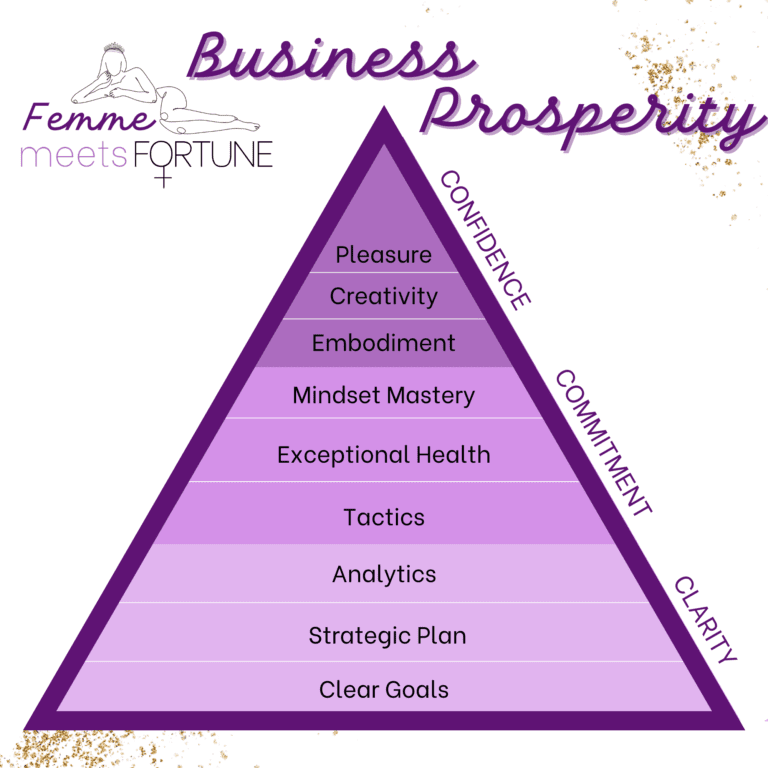 In this model, we start with the foundation and we work our way up.

For Clear Goals: Start with an understanding of what you want your life to look like in three years. What do you want to be doing with your time? How much time do you want to work? Where do you want to work from? Get clear on your LIFE.
Then get clarity on your who. Who do you want to work with? What types of people make you excited? What types of problems are fun to solve? Perhaps you do not care who you work with and you are largely only interested in what brings in the most revenue. Get clear on who you want to work with. Who are your target customers? What are the pain points that you want to help them solve? What sort of better life do you want to be part of them achieving?
For Strategic Plan: For this you need to consider numbers. What are your financial goals? What do you want to price your product/service at? Since you have your three year goal laid out from clarity section above, work backwards. Where do you need to be in 2 years to meet your 3 years goal? Where do you need to be in 6 months, 3 months and in one month from now. When you work backwards like this, you can organize your tasks in a way that keep you from reaching overwhelm. What is your overhead? How many sales do you need to cover your expenses? How many sales do you need to pay yourself. Make sure your rates are high enough so that you can pay yourself. How many hours of your time per sale does it take for you to deliver your product/service? Make sure your plan includes hiring people. And make sure that you will have enough money to hire someone before you run out of time to make more money.
Analytics: Analytics are your way of making sure you are on track. If you make more money (or lose money) in your business do you know what to look at to fix the problem? You need to make sure to be able to analyze your statistics in a way where you can decipher what the single most important thing is for you to work on in your business? Things that you need to know are cost of client acquisition, average lifetime customer value (how much the average customer spends with you), and how much you are spending on every marketing avenue versus how much you make on each marketing stream.
Once you have all of these things really clear, the foundation of your business is set. Then you can start exploring different tactics such as different marketing strategies, different business, models, and different ways of talking about your offerings. Since you have set up the analytics, you want to add on to this to make sure that with each decision on various strategies, you have the ability to determine the impact (positive/negative) on your business. Exceptional health and mindset mastery are part of a healthy business. If you are tired, mentally overwhelmed and just not in a great state to enjoy your life, your business will not thrive in the same way.
At the top of the pyramid, you will find pleasure. Pleasure is not talked enough about in business and in life. So many people build their businesses, but lose track of pleasure along the way (or lost it long before or never had it to begin with). Taking more time to experience pleasure each day can help to improve the business. Pleasure is usually experienced through the senses. Taking the time to wear things that feel good on your skin, to sink more fully into a hug, to touch yourself in a way that brings you joy and love. Even if it is just 1-2 minutes/day, the practice of pleasure will help you enjoy your day more, become more embodied and frankly have a lot more fun scaling your business.

Our Femme Business Archetype (FBA) Quiz helps you assess your small business owner skills. It will help you identify more clearly your natural skill set as well as skills that you are less inclined to (and better hired out). To take the FBA Quiz go HERE.